To maintain proper regularity in the workplace staff management plays an important role. For that employee attendance sheets are available here to practice the timely arrival of the employees.
Templates including Word and Excel tools are available for schools, factories, industries, IT development firms, pharmaceutical firms, industries, hospitals, and service-providing bodies.
The timely arrival of the employees is necessary to maintain discipline as well as to have sufficient time to complete operations and to achieve goals and targets set for them.
Lost productivity is another factor for which companies are especially focused on maintaining regularity in the workplace.
Different employees are involved in the process of production therefore absence of any labor can result in a disturbance of the whole production cycle resulting in the outcome of goods with less quality or causing a stoppage in the production process.
Format of Employee Attendance Sheet Template
The sheet is added with the purpose that is the attendance sheet of employees.
Companies having multiple departments and each department having hundreds of employees are usually having attendance sheets prepared for individual departments.
The date and month are added.
Name of employees, designation, time of arrival, and the time when leaving the working premises is added to the sheet.
Official leaves allowed, leaves taken, the reason for taking leave, and the type of leave are also mentioned in this sheet.
Employee Attendance Sheet Excel is a powerful tool used by businesses and organizations to efficiently manage and track the attendance of their workforce.
This spreadsheet-based system provides a comprehensive and user-friendly platform to monitor the presence and absence of employees on a daily, weekly, or monthly basis.
Typically, the sheet includes columns for employee names, dates, and attendance status, making it easy for HR personnel or managers to input and analyze attendance data.
Meeting Attendance Sheet Template
These sheets are observed by project managers when they are choosing members for their team as they can observe the working capability and potential of the employee by evaluating their attendance and regular behavior. Meetings are organized in businesses therefore timely arrival of members is important to start and end it on time.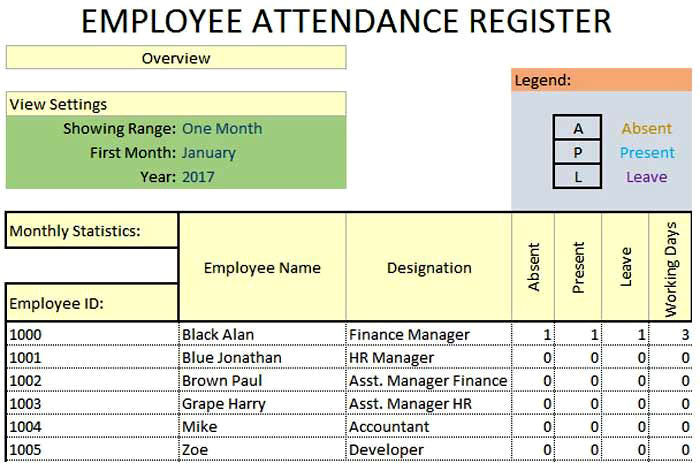 Training Attendance Sheet Template
Training programs are organized for teachers to make them fully updated with the recent changes in the paper trends and let them know about the latest updates and topics added in the specific subject. Other attendance sheets can also be found here.
Comment below to get full access to free employee attendance and employee absence tracking using a simple and advanced Excel template. Monitor employee roster and their performance according to their regularities in the organization.
Employee Attendance Sheet Excel, businesses can streamline their attendance management process, reducing manual paperwork and minimizing the risk of errors.
The sheet can be customized to suit the specific needs of the organization, allowing the inclusion of additional information like employee ID numbers or department names.
Moreover, many of these templates come equipped with formulas and conditional formatting, automatically calculating attendance percentages and flagging any irregularities.