What is Critical Path Analysis?
Critical Path Method is basically the whole framework of tasks that you intend to perform in a project. All details about the timeline of the project and how these tasks are related are done in critical path analysis.
Knowing the dependencies helps the team and project manager form realistic project plans and deadlines. The critical path method is the key to setting the deadline for the project.
What Are The Features of the Critical Path Method?
Following are the key features of the critical path method.
Correctly estimates the duration for the project completion
Keeping in mind the importance of each task dependencies are identified
Mainly focus on the planning and scheduling the activities during the project
Making realistic deadlines for the project milestones
Benefits of Critical Path Analysis
Each template you use in a project helps you in some way. Some benefits of critical path analysis are mentioned below;
It gives a clear vision of dependencies
Helps to form the graphical path of the project
Saves time for managing and organizing tasks
Keeps the track of actual and planned progress
Develop realistic deadlines
Sheds light on all important activities that require special attention
Download Free Critical Path Method (CPM) Excel Templates
Template 1 (Critical-Path-Tracking-Template):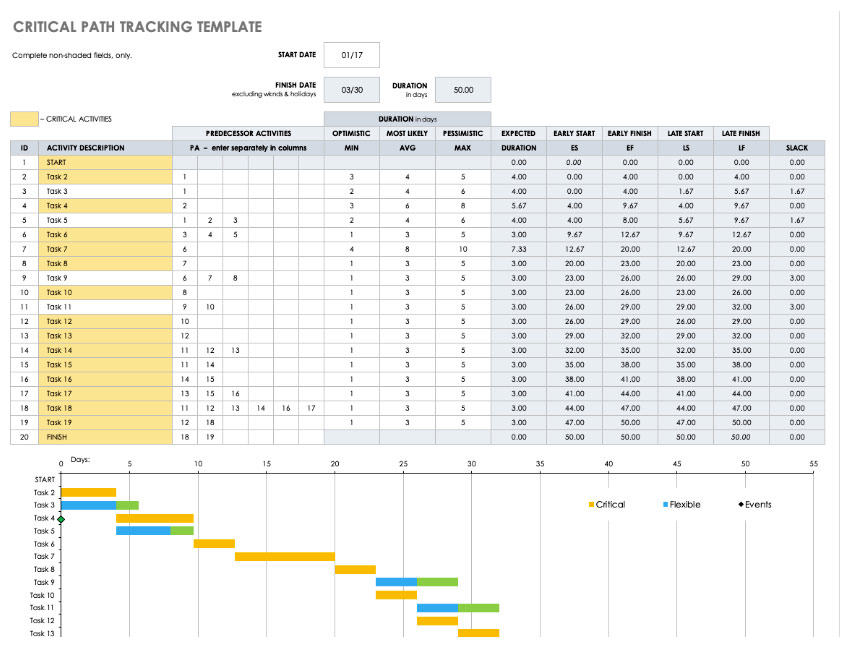 ---
Template 2 (Critical Path Method (CPM) Excel Templates):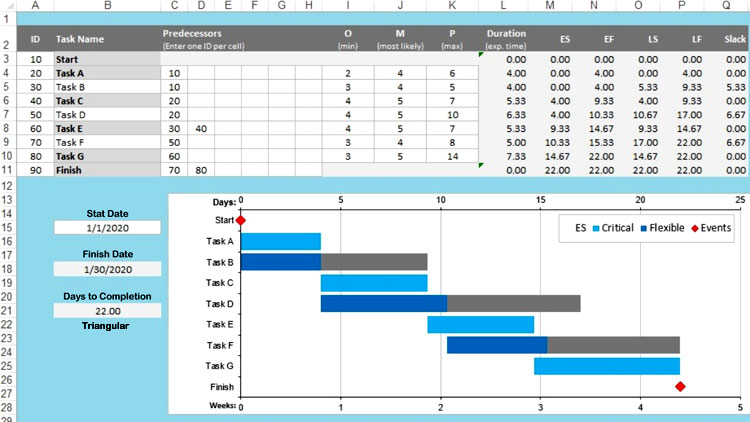 ---
Template 3 (CPM-Templates-In-Excel):
Critical Path Method Example
The method is simple and can be explained well by the graphical representation of the project. Referring to figure 1, this is the network diagram of the project.
First of paths are given some names like symbols. With the help of these names calculate the total number of paths in a project. With the names duration is clearly mentioned for the completion of these tasks, calculate the time duration between the paths.
Find the critical path of the project. The longest path is called the critical part/ phase of the project and requires utmost attention.
Next, you need to realistically decide the early start and deadline of the tasks. Plan the activities of the critical path first. So that you have enough time to finish them off comfortably.
As in the previous step, early activities are determined. Now, identify late start and end activities.
Find the activities that can be finished latest, make sure they do not belong to the critical path.
Look for the activities that can be finished earliest, make sure they do not belong to the critical path.
Calculate the total float of the graphical representation of the project.
Critical Path Analysis example
Construction projects can be dealt with best with the help of a critical analysis path. So, if you are building a house you need to identify the activities or tasks you need to plan with their time duration.
Then you have to plot a graph for these activities keeping the duration in mind. Special symbols are used in the plot and have different meanings. A project manager defines all these parameters.